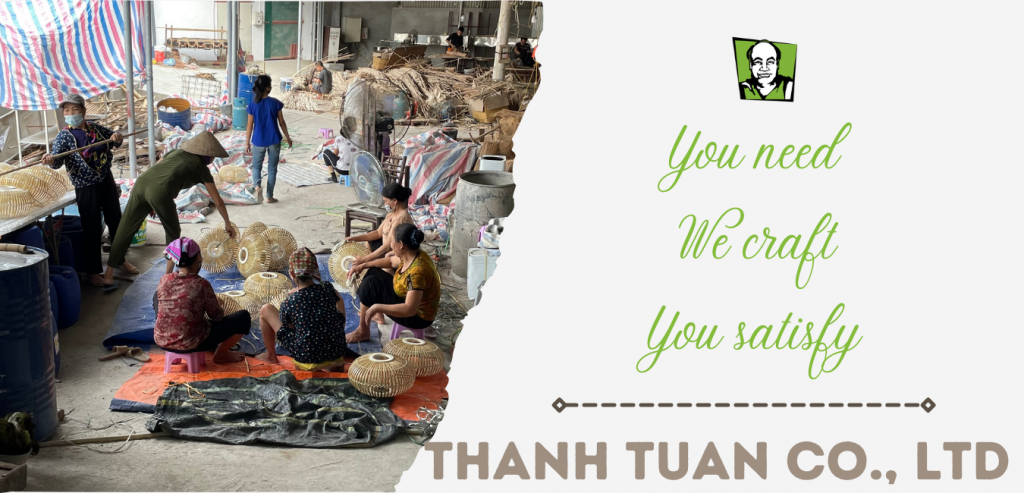 Thanh Tuan Co., LTD is located in the Northern part of Vietnam, in the area of ​​the capital – Hanoi – a city of rich cultural, historical and traditional values.
Specialized in basketwork art, our company offers a wide range of handcrafted products for your home and office. Our products provide environmental, social, and economic benefits.
Our factory was founded in 2002. Our long-term experience, diligence, and creativity help us to design and manufacture a variety of products. We use many popular natural ingredients such as bamboo, rattan, fern, seagrass with many knitting techniques. All our products are handmade and we are concerned about the quality of our products. Our range of products is mostly represented by kitchen utensils, home decor products, furniture items, storage racks and baskets, and baby doll accessories. 
Our main market: United States, Europe
The production network stretches from North to Central Vietnam
The number of craftsmen: Around 500 – 600 people living and working in the artisan villages near Hoa Binh, Phu Tho, Nam Dinh, Thai Binh, Thanh Hoa, and Hanoi
Factory area: 3.000 m2
Workshop area: 200 m2
Machines and equipment: we have different machines and equipment to support production and finishing like processing machines, spraying systems, air compressors, and drying systems
Production capacity: 1-3 x 40 'containers per month
Production deadline: 60-90 days
Samples deadline and delivery: 7-10 days
Shipment terms: FOB Haiphong
Payment terms: T / T
Our motto is "Make customers happier and Create stable jobs for more people.". To do this, we hope to join the hands of our customers around the world. From our website, you can easily choose some items you need, or if our styles don't make you satisfied, you can send us your designs at any time. We are always ready to work with you to develop your drawing.
This website shows a minor part of our products. Hence, if you find it interesting, please send an email to us. We are happy to send you our catalog or sample as soon as possible.
THANH TUAN  wishes to cooperate with customers worldwide.